Dentally Serving/Protecting & Expanding to more of a Dental Concierge experience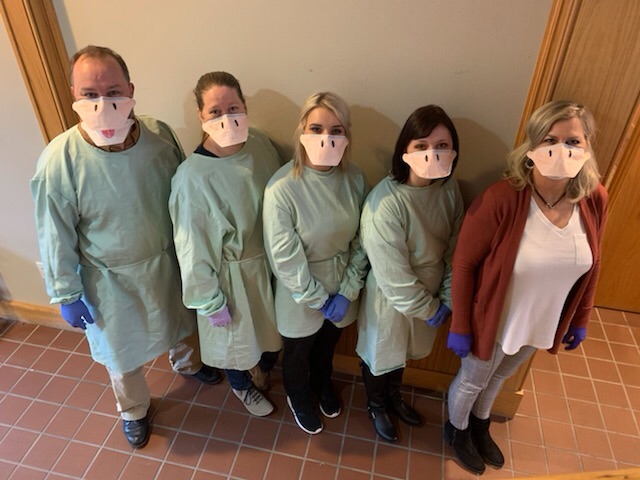 Everyone seems to be taking on new roles and adapting to the current environment. And we're not the exception.
We've been tracking ongoing changes and taking care of emergencies in our community since the beginning.
It is a time of creativity & expanded relevance at Family Dental Care.
We're happy that we're already…
Small, non-corporate without ever having more than 10 people in the office including team members
In a large enough space to be able to socially distance patients as well as team members
Scheduling appointments and collecting payment each operatory (even with a credit card processor)
Seeing patients with a single point of contact, seamless manner where only 1 person other than the doctor walks the patient through the process
Completing a wide variety of service to avoid the need for your travel to multiple offices
Providing crowns in one visit, even with a root canal, to avoid multiple visits for 1 tooth
Some of our additional physical precautions include:
Full team is socially distancing inside and outside of the office.
Temporarily eliminating the need for usage of the waiting room
Each of us wear N95 mask with additional mask overtop to eliminate contamination in any direction
All clinical team wear gloves and masks when not with patients
Face shields, gowns, and hats are worn by clinical team.
Personal protective equipment is either sterilized, quarantined, or laundered.
Aerosol production has been eliminated with no ultrasonic cleaning in the hygiene department.
Non-clinical team wear gloves and masks all of the time
Non-clinical team has no direct contact with any patients
Patient flow precautions have also now been implemented, including…
Remote Teledentistry with phone, video, photography examination and billing options
Staggered scheduling to avoid foot traffic interactions
Pre-treatment Covid 19 Health History screening
Just call the office upon arrival and we bring you into the office at the best time and place
Pre-treatment thermometer screening
Separate patient entrance directly to treatment room
Pre-treatment antiviral patient mouth rinsing
Please check in with us via telephone before your appointment so we can walk you through the safest way to receive the thorough care you deserve.
Dr. Russell Christian
Dr. Russell Christian, DDS, is the owner of Family Dental Care, based in Mount Horeb, WI.