Fastbraces® – Madison WI
Fastbraces® – Madison WI: Moving Teeth Faster Avoids the Problems of Traditional Braces
The biggest problem with traditional braces has always been time. By improving the design of traditional braces, Fastbraces® literally offers a quick fix. Get your Fastbraces® near Madison WI and experience straighter teeth in a shorter amount of time.
The thought of wearing braces on for years has always deterred people from getting healthier, straighter teeth. The appearance, the endless maintenance — it just seems like it never ends. Fastbraces® revolutionary design provides an alternative that results in:
Lower cost
Less senstitivy
Less root shortening
Get Started Today!
Either call us at (608) 437-5564 or fill in the form below. Let's get you started on Fastbraces® today! (Or if you want to learn more, scroll down!)
Fastbraces® vs. Regular Braces: Getting to the Root of the Problem
Traditional braces are square in shape. Typically, they move the crown in the first year, and the root of the tooth toward its final position in the second year. That's two years of treatment.
With Fastbraces®, we start with the root first, moving it towards its final position from the onset of treatment. If your bone responds well, the plan can be completed in 20 weeks – that's months instead of years.
From that point forward, you may have to wear a retainer at night during sleep, or just in the shower.
Fastbraces® Technology: Moving the Entire Tooth Right from the Start
How does it work? The triangular brace design and the square archway slot help move the entire tooth from the beginning of treatment. This video explains the process:

The result are these notable advantages compared to old braces:
| | |
| --- | --- |
| Regular Braces | New Technology Fastbraces® |
| Used for Decades | Used for Over 20 Years |
| Often Changes Natural Bite | Natural Bite Preserved |
| Extractions Often Needed | Almost Always Non-extraction |
| Multiple Wires Used | Just One-Wire |
| Typically 2 Years | Typically Weeks to Months |
| Typically High Cost | Typically Low Cost |
| Delayed Root Movement | Immediate Root Movement |
| Root Resorption (Tooth Root Shortening) | Less Root Resorption (Tooth Root Shortening) Statistically – see studies below |
| Pain Issues Reported | Pain Reduction Statistically – see studies below |
| Typically 24/7 Retainers | Typically 15-20 Min./Day Retainers |
Get Started Today!
Either call us at (608) 437-5564 or fill in the form below. Let's get you started on Fastbraces® today! (Or if you want to learn more, scroll down!)
Studies Back Fastbraces® Success
The Easier Your Teeth Move, The Faster They'll Straighten
A study by the University of Southern California found "Fastbraces® brackets have significantly the lowest mean frictional forces by 87% when compared to all other orthodontic brackets in the study."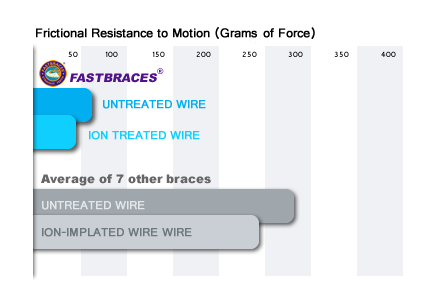 Source: Fastbraces.com
Study: Ion-Implantation: Effect on Frictional Resistance to Movement by Michael R. LaFerla, University of Southern California, Master's Thesis for Master of Science in Craniofacial Biology, Graduate Orthodontic Department, 1996.
Less Force Required, Lower Sensitivity for Your Teeth
Because standard brackets require more force to move, the level of discomfort with Fastbraces® has proven to be statistically lower.
Source: Fastbraces.com
Study: The Study of Orthodontic pain symptoms, PHD Thesis by Dr. M. Dalili, DDS, MSC, Orthodontic Division Institute of Oral and Dental Diseases University of Kuopio, Finland, 1998, Pain Perception at Different Stages of Orthodontic Treatment, Faculty of Medicine, Institute of Biomedicine, Department of Physiology, University of Kuopio, 1998
Avoids Root Shortening Typically Experienced with Traditional Braces
Research indicates the longer you wear braces, the more root shortening (or root absorption) you'll experience.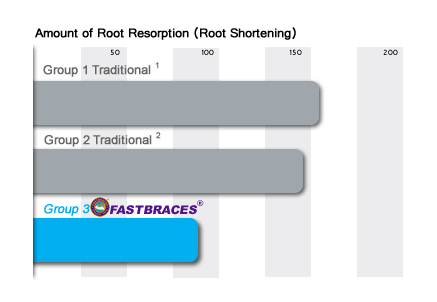 Source: Fastbraces.com
Based on the research submitted by Dr. Graziela de Luca Canto, Master of Science in Orthodontics, University of Sao Paulo at Bauru Dental School.
Cost of Fastbraces®: Options for Everyone, Costs to Fit Your Budget
For Fastbrace®s, if you take advantage of all of the promotional and payment discounts in our office, the cost for metal or tooth-matching brackets is a one-time payment of $4,000. (Traditional braces cost around $6,000.)
Or, you can also spread payments out over a full year, interest free and get a 5% discount (that works out to $395 per month).
Ask us about all our other customizable payment options. We're extremely flexible and find a plan that works for you!
Fastbraces® Options
Fastbraces® offers a number of options, based on your aesthetic taste and/or desire for speed and efficiency. Options include:
Fastbaces® Standard Metal – State-of-the art performance with multiple advantages over traditional braces.
Fastbraces® Ceramic Clear – Added aesthetic appeal with tool-colored wire.
Fastbraces® Turbo – Available for patients when time is the top priority.
Fastbraces® Retainers – Custom-fit for comfortable post-treatment.
Simple Steps to Fastbraces®
Step 1 – Contact us and set up and appointment (see below for phone number or contact form)
Step 2 – At the appointment, we'll take radiographs and pictures of your teeth.
Step 3 – We'll create a customized plan.
Step 4 – You get your Fastbraces®!
Get Started Today!
Either call us at (608) 437-5564 or fill in the form below. Let's get you started on Fastbraces® today!